Do you know that home loan with low interest rate does not necessary means it is the best home loan package for you. There are other important considerations as well. However, one should try to get the lowest or close to the lowest interest rate for their home loan first prior to other needs.
How a 0.5% interest rate difference in the home loan affects you?
Do you know a small interest rate difference in your home loan may cost you a lot of money? How a 0.5% interest rate difference in a home loan affect you in the long run?
The answer is around "RM 60,000" with RM 500,000 home loan with tenure of 35 years.
| | | | |
| --- | --- | --- | --- |
| Interest Rate | Monthly Instalment | Total Interest Payment | Total Payments |
| 4.0% | RM 2,214 | RM 429,827 | RM 929,827 |
| 3.5% | RM 2,066 | RM 367,910 | RM 867,910 |
| 3.0% | RM 1,924 | RM 308,185 | RM 808,185 |
Table 1 Impact of Interest Rate on Total Interest Payment (loan amount = RM500K with 35 years loan tenure)
What can you spend for RM 60,000? Perhaps you can buy a "PERODUA ATIVA", pay for a voyage to Antarctica, pay for your children to study in international schools or universities.
Another question is how long you need to save RM60,000? I guess it is not an easy task for many people. It is worth to know more to reduce your interest payment on a home loan.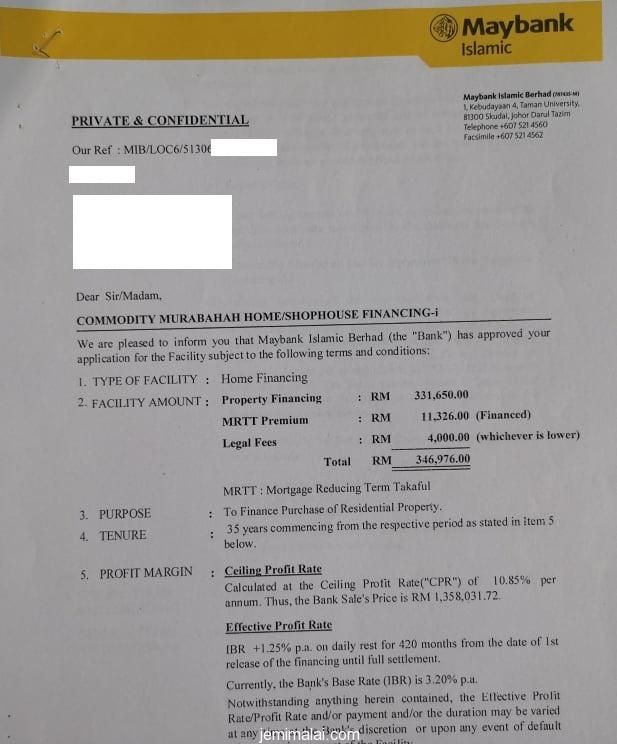 Which bank offers the lowest interest rate on home loan?
Currently, home loans in Malaysia adopts Base Rate (BR) system. Interest rates for most housing loans are normally quoted as 'Base Rate" + "Spread Rate'. Noted that "Base Rate" will change when Bank Negara Malaysia announce a change in Overnight Policy Rate (OPR). Spread rate is generally fixed.
For example, interest rate on a 'BR + 0.30%' loan would be '3.30%' when BR for the bank is "3.00%". The "3.30%" is the effective interest rate, which may change in accordance to OPR rate. On 08 Jul 2021. Bank Negara Malaysia has set OPR = 1.75%. The latest OPR rate can be found here.
One way to get a lowest interest rate on a home loan is to identify which bank can offer the lowest effective lending rate to customers (see Table 2).
| | | |
| --- | --- | --- |
| Local Banks | Base Rate | Effective Lending Rate |
| Affin Bank | 2.70% | 3.30% |
| Alliance Bank | 2.57% | 3.36% |
| AmBank | 2.60% | 3.25% |
| CIMB Bank | 2.75% | 3.50% |
| Hong Leong Bank | 2.63% | 3.50% |
| Maybank | 1.75% | 3.20% |
| Public Bank | 2.27% | 3.10% |
| RHB Bank | 2.50% | 3.50% |
Table 2 Base Rate and Indicative Effective Lending Rate (Source)
How to get the best home loan package?
A smart home buyer may consult with reliable and independent professionals (real estate agents, real estate negotiators or bankers) in finding the best home loan.
What are the important criteria in selecting the home loan suits your needs? In my view, there are five (4) important consideration:
How to get home loan with lowest interest rate?
Do you wish to payoff the home loan in advance?
How to reduce charged interest in the home loan?
Can a non-Muslim get a Islamic loan package? In what ways the Islamic loan package is so special?
A good professional should be able to help you with the above questions. Furthermore, a good professional also can guide you in negotiating with bankers to get the best interest rate.
Advance payment in certain types of home loans not only can reduce charged interest, but they may also be used for "emergency fund". Ask the professionals to know more.
Good luck in your home loan hunting journey.